Take your coaching game to the next level!​
Learn the 3 main key themes in technical coaching methodology and the 3 key pillars of the best Academies in world soccer.
Ball Mastery | 1V1 | Small Sided Games
Understand how to effectively use Ball Mastery to get maximum technical and physical outcomes with your players.
Learn how to develop your players into better decision makers on the ball. 
Understand how to plan sessions which give players enough time on the ball to develop their skills.
Learn how to use 1v1 duels to improve your players and why it's the staple in the best academies in world soccer.
Understand how to make your sessions cognitively and physically challenging.
Learn where and when to most effectively use unopposed work and how to maximise technical outcomes in your opposed sessions.
Learn how to design games that are fun, get skilful outcomes and create technical game changers.
This course is jam packed with world class training advice, ready to help you take your coaching to the next level.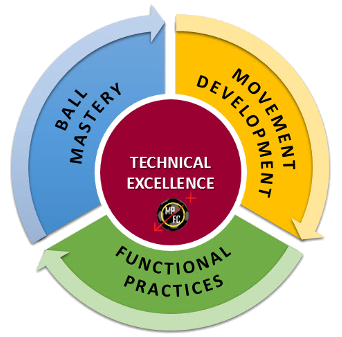 Why learning with the Elite Soccer Coaching Training Course really works.

Players who put the extra work in are the players who make it in the pro game.
Lucky for you, I have created a World Class online mobile training programme incorporating my methods developed as a Premier League academy coach for 10 years.
Saul spent 10 years as a coach at Arsenal, Chelsea and Tottenham Hotspur within the academies. He now works one-to-one with some of the best young pros and well stocked up. Players from Barcelona, Arsenal, Chelsea, Tottenham, and many many more!
Learn more about Sauls experience here.
Take your players, coaches and club to the next level with My Personal Football Coach. 
Provide a consistent and reliable world-class remote learning technical training programme for your players. 
Track the usage of your players on the app and get access to the world-leading coaches resource. 
Master The Ball...Master The Game