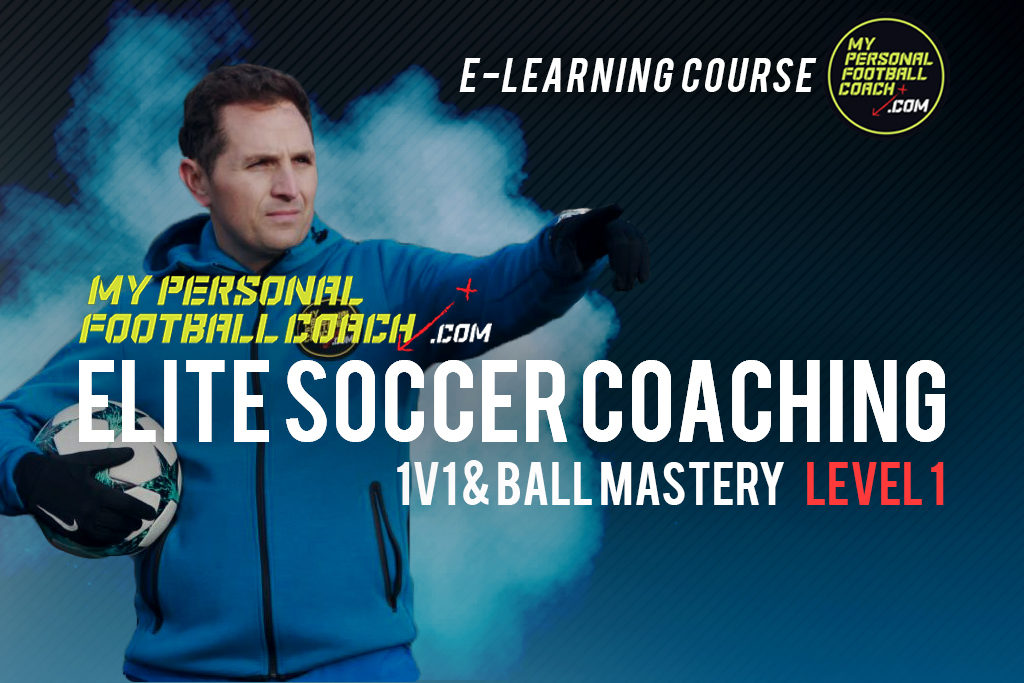 The Elite Soccer Coaching 1v1 & Ball Mastery training course has been designed to bring world class coaching to the community. Whether you work with beginners or elite players this level 1 will give you a grounding in Ball Mastery, 1V1 and Small Sided Games. The 3 main key themes in a technical coaching methodology and the main stays of the best Academies in world soccer. Take your coaching game to the next level!
- 5 comprehensive modules with over 30 videos
- exclusive full sessions by saul isaksson-hurst
- Suitable for beginners and advanced coaches
- World class coaching methodology
- Unlimited access forever
- DOWNLOAD AND VIEW OFFLINE ON MYPERSONALFOOTBALLCOACH APP
- All this for just £99.99
Why learning with the Elite Soccer Coaching Training Course really works.
What will I learn with this training course?
Are you ready to become the most explosive, dynamic and complete soccer coach ready to take your players  to the next level? 
Learn how to teach your players to make decisions on the ball.
Learn where and when to most effectively use unopposed work and how to maximise technical outcomes in your opposed sessions.
Understand how to conduct sessions which give players enough ball time to develop their skills.
Understand how to use Ball Mastery to get maximum technical and physical outcomes with your players.
Understand how to make your sessions cognitively and physically challenging.
Learn about the 1v1 duel, how to use it effectively and why it's the staple of the best Academies in world soccer.
Learn how to design games that are fun, get skilful outcomes and create technical game changers
This course is jam packed with world class training advice, ready to help you take your coaching to the next level.
Frequently Asked Questions
HOW LONG DO I HAVE ACCESS FOR? 
You will have unlimited access to the program for ever after signing up. Complete the course as many times as you like and once you have completed the course then just revisit as you wish. We will be adding further Levels in the future.
CAN I USE IT FOR MULTIPLE COACHES? 
Unfortunately no because the program is designed for the individual only to track their progress. 
IS THE COACHING TRAINING COURSE SUITABLE FOR A BEGINNER?
Yes! It is ideal for a beginner to learn the core aspects of technical football coaching.
WILL IT WORK IN DIFFERENT COUNTRIES? 
Yes. We already have users in over 30 countries across the world and all units are available to download and can be viewed offline on your phone (or tablet) wherever you are in the world.
WHAT IF I NEED HELP AFTER I START? 
 We are called My Personal Football Coach for a reason. We are available to assist where possible if you are having problems with the program so just contact us at any time and we will respond as soon as we can. We want you to improve and will support you as best we can! 
Master The Ball...Master The Game