Watching Jamal Musiala excel for Bayern Munich last season and Germany now in the Euros has filled me with lots of pride. In my first season with Chelsea's Academy, I took the U10s which included Jamal. This was an extremely talented group and thought highly of by everyone in the Academy but Jamal and one other were the stand out players for me. Jamal was and still is 'a dribbler' he used to play his own game and love trying to beat as many players as he could. He used to drive some of the other staff at the club mad as they'd often say to him 'get rid of it' 'move it quickly' or … 'he just needs to learn how to lend it'. I was the opposite, I used to encourage him to keep on going…keep on trying to beat players.
Pep Guardiola was once quoted as famously saying…
'Can this guy dribble? I only want players who have that skill so that's always what I look at. I want full-backs and central defenders and midfielders and inside forwards and wingers who can dribble because you can learn control and good passing…so yeah dribbling that's the key'
This is ironic on many levels as the reason why we maybe don't produce/develop more dribblers is that many youth coaches try and model their teams on Guardiola's teams. Quick play and possession is the key. Also, I think the danger of youth coaches basing all their training programmes on rondos and positional play is it lends itself to organised quick play. Particularly in the foundation phase, we want a bit of freedom, chaos, individuality and creative play. I'm not saying don't use rondos or positional games but balance it with games that encourage players to stay on the ball.
'A successful 1v1 beats and tactic/formation' (Ajax Academy)
This saying from the Ajax academy sums it up for me. We celebrate players who have the ability to break lines with the ball at the highest level. These game changers are the ones who win games but the irony is when players in the youth football environment try dribbling and lose the ball coaches often scold them or encourage them to 'play it quickly next time'.
If we don't give players the opportunity to make mistakes and hone their skills…how do we expecting them to develop this. Are we excepting the finished article in the Foundation Phase (8-11 Years)?
Also, with the danger of sounding like a broken record… how important is winning the game at youth level? Particularly in Academy football where each game is a friendly anyway?
I've been lucky enough to spend a lot of time at Hale End, Arsenal's Academy training ground as Arsenal are utilising the MyPersonalFootballCoach app within their Academy. I watched an U10 game recently between Arsenal and QPR. I was astounded, this was one of the best academy games I have ever seen in terms of individual development and brilliance. You could see both clubs have a clear philosophy and identity around individual development. Every time a player received the ball their first intention was go froward and to beat a player. Some of the skills, bravado on the ball and the goals were simply sublime. I have never seen a fixture when both teams had a similar intent.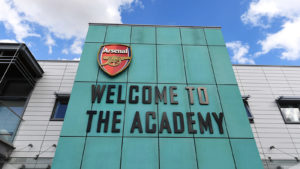 The Head of Coaching at QPR is my old boss at Spurs and mentor Chris Ramsey so I know that they have one of the most progressive methodologies in the country. It was fantastic to see Arsenal with an identical approach that encourages individual brilliance and creativity over team outcomes and possession within the foundation phase. This lays the foundations for effective team play when players get older.
Many academies claim to have an individual focused programme but when it comes to games there is a clamour to win and play 'pretty' Possession football. The question is, is this really individually focused or simply coach/adult/ego orientated? I think we need to understand that youth football is different to adult football… Also the Foundation Phase is markedly different to the Youth Development Phase (12-16 Years). Give the players freedom to be individual and creative…
Let the dribblers dribble!
Master the Ball… Master the Game