Saul Isaksson-Hurst is an experienced premier league academy coach having spent 6 years at Tottenham Hotpsur FC and 4 years at Chelsea FC's Academy as a Foundation Phase skills specialist and is founder of mypersonalfootballcoach.com where he is director of coaching. Saul talks about the stigma against creative players in English football that still exists today.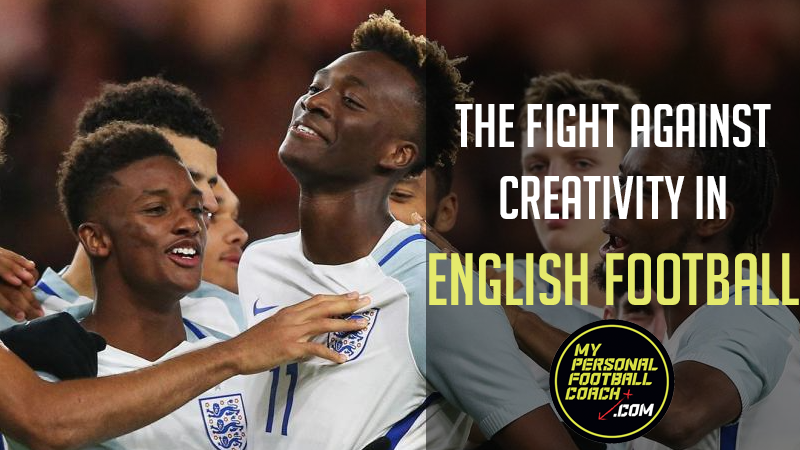 Too Much Fancy Dans, The Fight Against Creativity In English Football.
Aidy Boothroyd, the England u21 manager (a key figurehead in English Football) was last year quoted as saying that he wanted his players to play more like a team…'Playing as individuals is not going to get us where we want to go, we are not here to do tricks and fanny around.'
This opens up a debate about winning and development but I think more interestingly enough outlines the strained relationship English Football has with skilful players or dribblers and maybe explains why we don't as a football nation produce enough of them.
"
We are not here to do tricks and fanny around."
 Watching the Arsenal v Chelsea game the other week, something Gary Neville said also stuck in my mind. During this game, Ainsley Maitland-Niles made a great performance as a left wing back. At one point, faced with a 1v1 against Moses on the edge of the Chelsea penalty box, Maitland Nile's coolly executed a Double Ronaldo step over or scissors to create space for a cross, Neville refers to it as a 'lolly pop'… Here we have the problem, 1v1 skills are considered tricks or lollipops… something maybe of the magical…something out of the norm.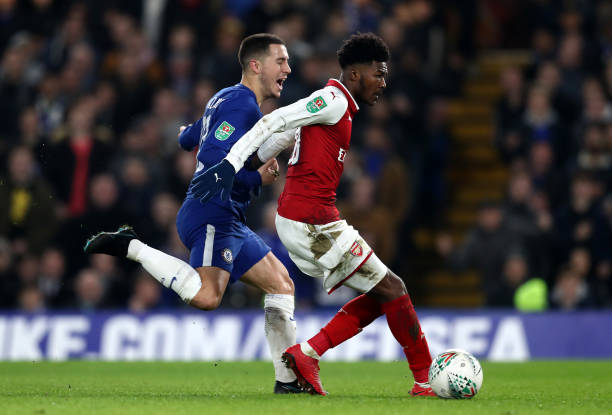 Ainsley Maitland-Niles taking on Eden Hazard.
We've all heard stories of players being over coached at grass roots level or at academies. Coaches screaming 'move it quickly' at u9s. I think it goes deeper than this though. I think we must also examine our training environment. I consider 1v1 skills as core skills, the same as any other core skills we require for young players to obtain. Passing, shooting, first touch etc. Being able to receive and stay on the ball under pressure is and should be required a pre requisite of all players in academy football. Whether you believe in teaching players skills or letting them discover their own…we must strive in our training environment to give the players time to master and more importantly experiment with these skills. It's not helped by the continual absence of ball Mastery and 1v1 from the English FA's courses. Particularly the courses aimed at our academy coaches. Ball Mastery and 1v1 was not seen as 'relevant' to be included in the advance youth award. This adds to the mysticism surrounding 1v1 skills and the players who possess them.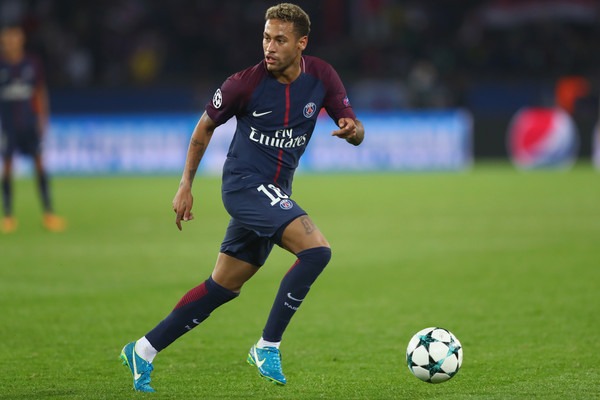 Neymar exudes confidence, creativity and self belief.
People often suggest that I'm am extremist…maybe when I disagree with the majority who tell me we should coach foundation phase players when and where to try these skills or when to try and beat players… I disagree. 
Do you think we are going to produce more players like John Stones by telling players 'not to do it around their own box' also do we really need to tell u9s to play percentage football in and around their own box? 
Just look at Neymar, look how flamboyant he is when he plays for PSG. Could any manger really tell him to stop fannying around? Brazil is a football culture which encourages and lauds the 1v1 player, the country demands that these type of players make up their teams. 
If we want to produce our very own Neymar we need to encourage flamboyance and creativity where ever possible, even if that means we lose games. 
We seem to be in a desperate rush to make our very youngest players play and look like adult footballers, I've continually argued for more of a playground type environment, as the playground players are more often than not the creative geniuses. 
I refute also because we have a structured academy environment that we can't do this, somehow we are bound by convention when players join a premier league academy.
This goes back to my original argument, let's not call these tricks, or describe the players as some sort of magicians. Let's demand that all of our players, whether defenders or attackers possesses these attributes and continually work on them through-out their footballing journeys. 
Let's as a football culture embrace 1v1, as they have in Belgium, Holland, Brazil and Croatia to name a few. Let's encourage 'fannying around' by our young players in the foundation phase and let them escape the shackles of 'the conventional game', let them enjoy their childhood…there is plenty of time for them to assimilate in the long term. 
What do you guys think? I'd be interested to hear your opinions on this subject as I further explore it. Feel free to e-mail me at saul@mypersonalfootballcoach.com.
Cheers guys & remember.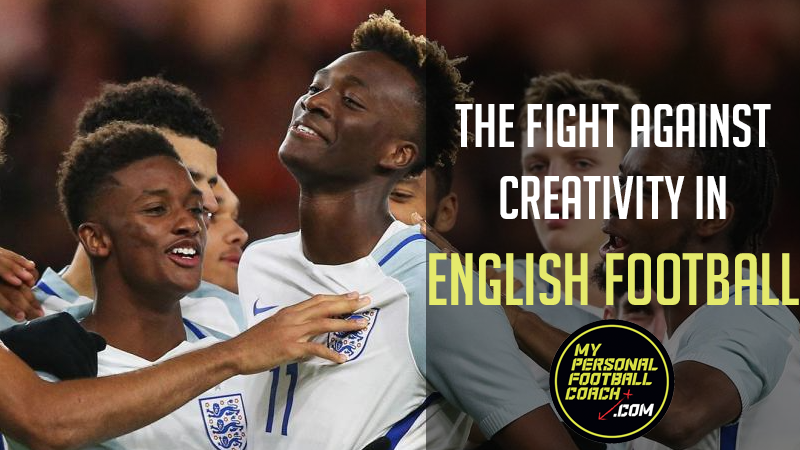 Master the ball Master the game