Coaches, parents & players often ask me to explain where the coaching I provide fits into the makeup of a footballer especially on developing young creative soccer players. There are many facets to the way I coach and this has evolved over the years but in this 3 part series I wanted to give my thoughts through my learning and experience to the footballing community. I have broken this down into 3 parts.
Part 1: Routes to the end goal – Here I look at what we are trying to achieve and the part 1v1 soccer skills coaching can take especially in younger footballers.
Part 2: Learning Mechanisms & Education – As well teaching and coaching football, I am a keen student of the game so I highlight some of the education and sports science which contributes to my philosophy in developing footballers.
Part 3: Putting it into practice – Theory is great but does it work? In this part I show some examples of where 1v1 soccer skills coaching has been used in developing footballers whilst ensuring their creativity within the game.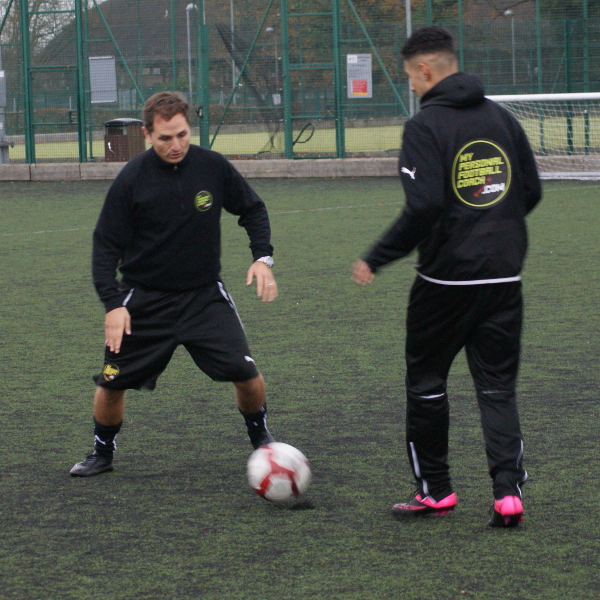 Part 1: Routes to the end goal
My experience working with players and students.
This 3 part series is a reflection of my 14 years as football coach, 10 years as a Foundation Phase Academy Coach at Tottenham Hotspur and currently with a Premier League Club and 12 years as an individual technical coach with pdafootball.co.uk.
I will also be drawing on my 5 years' experience of being a Primary School teacher. I mention my history because i think it is important and has led me to my coaching philosophy today which is my own and not of any organisation I am currently affiliated to.
Technical Excellence Cycle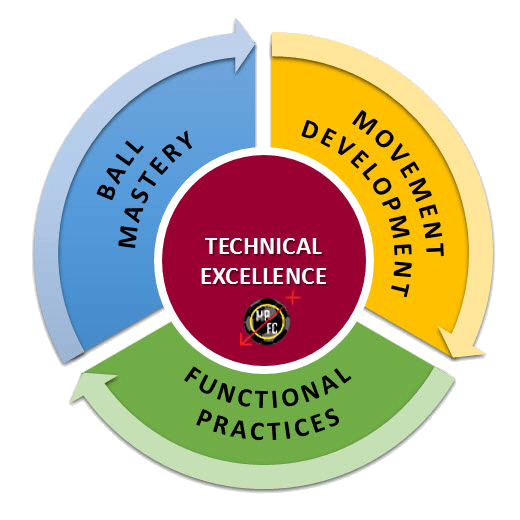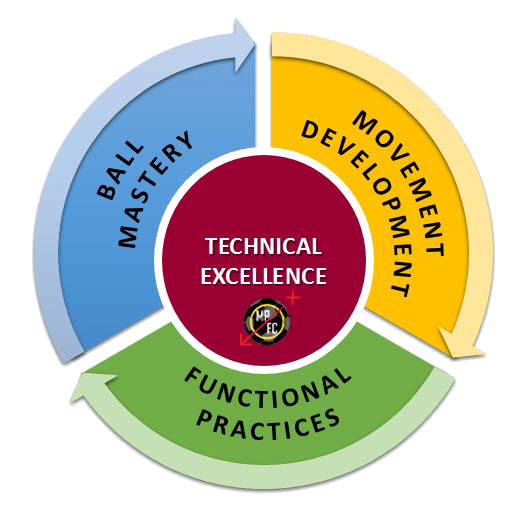 I see myself first and foremost as a technical coach, or a skills coach. When I talk about football skills or technical training I'm talking about developing players with an excellent all-round technique with a focus on 1v1 domination and being complete masters of the ball.
Firstly I want to confront what I see as misconceptions being portrayed in social media and coaching forums particularly here in the UK. There is now a general myth that skills coaching curves or stunts creativity in youth footballers, by somehow taking the decision, or the discovery mechanism away from the player. This 3 part series will look to confront and dispel this misconception drawing on educational, sport science and empirical evidence.
I often think back to my time teaching in primary Schools in inner city London. The majority of the children have English as a second language. It left me wondering how challenging it must have been for them to assimilate to another country, not just learning the language but also the cultural norms and values.
I now associate this same notion to working with young, gifted and talented football players. We are trying to give them space and time to explore whilst ensuring they understand how we want the game played, i.e not smashing the ball up the pitch the whole time, not two foot tackling people. Also we want them to understand that we want them to be creative and try and open up defences, maybe dribbling with the ball, something that they may not get the opportunity to do at their grass roots clubs, maybe trying a turn or a dribbling skill in their own area rather than kicking the ball out. I see 1v1 soccer skills coaching and my philosophy as one mechanism to achieve these aspects in football without diminishing the creativity within the player and in fact enhancing it.
The common consensus in this country (England) is that we don't produce enough exciting footballers. By this i mean players who can change games and provide that advantage for the team. Also if you look back at recent history you will see English players, apparently lacking in technical ability when compared to Continental or South American counter parts. Now there are many ways in which you can judge this and the bench mark for me is the ability for a player to want and stay on the ball under pressure. This seems to be an area where our players have lacked in recent years not having that composure on the ball.
Now there may be many reasons to this but I think it is important to look at the cultural context. For me there is a lack of empathy with 'skilful' players at grass roots football because of the win at all cost, team mentality of much of youth football. There is also a general problem with people's outlook to these sorts of players. A coach recently mentioned to me that the coaching i provide was basically a 'how to show boat course'. This comes to the crux of the matter as where many people see effective 1v1 play as show boating or flair players, I reject this notion and see this as a key and vital ingredient to a players armoury, all players should be able to respond to a 1v1 challenge.
Now the next obvious direction to this would be how 'the game is the teacher' model fits into this need of getting all of our young players at all levels to be able to dominate 1v1.
Now there is a school of thought that argues leaving players to develop themselves will create players like this, away from coaches who restrict their creativity. Now this is a warranted argument and players like Messi, Sanchez and Suarez support this. I argue however, the conditions in this country are different, and we have to re-create an environment where street football type activity happens. I would also go further to say, as coaches we can adjust or manipulate this environment to get more gains in the development of players able to dominate 1v1.
What is meant by the Game is the Teacher?
It's a vague term and you will struggle to find a definitive description anywhere. This lack of clarity causes confusion which leads to many interpretations.
In its simplest form, it is to allow players to learn football by playing football with real game scenarios. This is done through small sided games at younger ages through to 11v11. Allow players to learn, explore and solve the problems they face on the pitch as this is the best teacher.
The environment we create is important because this is how children learn,
Bandura's (1977)
Social learning theory states that behaviour is learned through observing others behaviour, attitudes and the outcomes of these behaviours.
In footballing terms this would be equivalent to a footballer's friends, teammates and teachers (coaches) along with watching the game through any medium. This observational learning is vital and I always want young players trying new 1v1 soccer skills, learning from each other, imitating what they have seen players do on TV.
Bandura's Bobo Doll Social Experiment
Now as a skills coach I can also show them 1v1 soccer skills
BUT
never do I say to a player, you must do this skill now. That is a failure for a coach as that one instruction will short circuit the learning process and effectively reduce creativity. The skilled coach will however introduce new skills, support players in learning them and challenge them to do them in a game environment.
This notion of supporting the player on their journey is vital, as it is important for a coach to recognise when a player needs support and when they need space to evolve by themselves. This balance will ensure the education is instilled whilst embracing the creative spark within the footballer.
Saul Isaksson-Hurst 
Head Coach at MyPersonalFootballCoach.com
Read the full article here.