After watching England V Slovakia many would be forgiven for being uninspired by the game and the performance from England. I however took great heart from one thing in particular, Adam Lallana and his excellent technical performance has shown himself irreplaceable in this English team. For me he was definitely one of the few bright spots from the Euros where the team certainly performed to a lesser level without him in it. His ability to stay on the ball under pressure is a real unique and precious commodity.
Lallana is quite an anomaly though in English football. A player not blessed with natural lightening pace or power, he's not what you might call a classic English player. He has fantastic technical ability, not only on the ball but able to create space with body movements and disguise and use his excellent first touch to great effect. We have to ask ourselves though why we don't have more players like this, players whose game intelligence and technical ability are their main assets rather than strength and speed.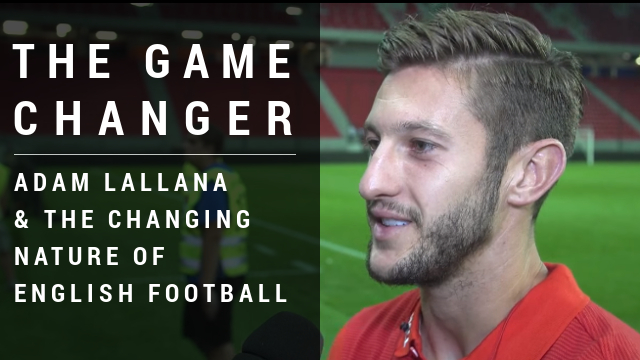 As coaches and scouts we have to look at ourselves and ask ourselves whether we are we giving those (often) small players a chance. There is still in my eyes too much focus on physicality in English football and particularly their effectiveness in games at an early age. Many times in my career I have heard scouts tell me,
'he's too small', 'he doesn't affect the game', 'he's one paced'
when describing foundation phase players. This is a major issue within our game and will hold us back in our quest to develop more Champions League quality players. We must sometimes look beyond the game on the weekend and recognise long term potential in players rather than instant gratification and winning games.
Patience seems a commodity in scarce supply within grassroots and academy football. We must recognise the quickness of not the body but the brain and cultivate this most precious commodity and see how the rest develops! Making decisions on physical grounds at ages 8, 9 and 10 are extremely concerning too me.
We must also as coaches create environments where these creative players can flourish, casting off the shackles of formulated team play and let them go out and express themselves. It's easy to coach a team to look pretty, move the ball quickly and then get bodies behind the ball and be compact. It's a lot more challenging to let the players go out on the pitch and make decisions themselves and have their fate in their own hands. This means also, allowing players to make mistakes in games and taking the result out of the equation. As coaches and parents we have to take this on the chin, remember the only 3 points that really count are those of the first team!
Maturation over age group - an ongoing debate
Are we brave enough as coaches and parents also to allow players to play down. I have recently been coaching an u8 player who is an august birthday, but in maturation terms well under developed in comparison to his peers. He is one of the most intelligent footballers I have worked with at that age but was last year as a U7 released from a Premier League Academy Development Centre I was told he was "technically excellent" but was too small and not being able to affect the game.
I still can't get to grips with that decision! More worryingly this player recently tried to play with an u7 team in a tournament. He was smaller than all the other players in the team. He was unfortunately unable to play as one of the opposition coaches knew of the boy and complained.
There is no flexibility as it stands for under maturated players to play down in grass roots football. Surely if we want to develop and be known as a modern footballing country would make sense to give smaller players the chance to compete with players with similar levels of physicality. Giving players a chance to compete physically in games would not only give them an opportunity in the long term, but more importantly show the quality that they have. What must it be like for a player to be constantly fighting a losing battle in the physical English game?
Players can play down in Academy football but is incredibly frowned upon, by coaches and parents. We must educate all to show that this is not a demotion or a punishment, but an opportunity for that player.
Until we come to grips with the realisation that foundation phase is about individual technical development and not about create winning teams we will always be searching for more Lallana's!
Master the Ball…Master the Game
Saul Isaksson-Hurst 
Head Coach at MyPersonalFootballCoach.com