First Touch
Turning
Passing
Receiving
Dribbling
Ball Striking
Running with the ball
Quick Feet
Cones or equivalent markers
Wall to bounce off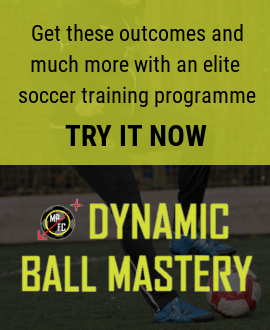 Check out this awesome individual soccer challenge to help you receive, turn and play like Ronaldo. You will have seen this great player do this countless times in games so try this simple challenge to give yourself the ability to do the same.
This practice will improve your dynamic movements, 1st touch, dribbling and finishing.
Set up a simple diamond and work on these 4 turns
Flick behind
Inside foot
Outside foot
Inside & spin
Remember to practice on both feet, be sharp, explosive and focus to make it game realistic.
Hard work pays off
Master the Ball…Master the Game