First Touch
Turning
Passing
Receiving
Dribbling
Ball Striking
Running with the ball
Quick Feet
Cones or equivalent markers
Goal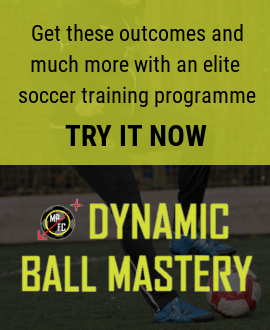 Speed Agility & Quickness is key!
Check out this individual Dynamic Ball Mastery soccer challenge that is geared specifically for explosive soccer movements and improving your speed, agility and quickness with the soccer ball. Don't waste your time with ladders when you get all those outcomes plus more as you work with a soccer ball at all times.
It will help improve your dribbling, turning and balance on both sides as well as 1v1 and ball striking in a realistic practice that you can transfer to the game. Refine and master the technique first and then work at high intensity to simulate the game environment and maximise the outcomes.
Hard work pays off
Master the Ball…Master the Game