First Touch
Turning
Passing
Receiving
Dribbling
Ball Striking
Running with the ball
Quick Feet
Cones or equivalent markers
Goal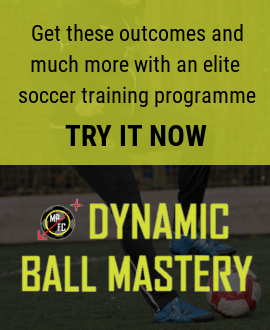 The V Work Combo Diamond is a great individual soccer training practice that gives so many outcomes for young developing players and is a real taster for what you can expect if you sign up to the full Dynamic Ball Mastery program.
This individual soccer training technical challenge that will improve your Ball Mastery, First Touch, Control, Dribbling, Turning, 1v1 and Shooting. It is also importantly designed to improve your dynamic movment with a ball. It is so important when looking at any technical program and choose one that will give you the technical and physical base to support your long term development.
All you need is 4 markers and a goal. Start off slow and try to gradually increase your speed. With the 'V Work' movements, make sure you really twist and open up your body, develop that flexibility in your body movements.
Hard work pays off
Master the Ball…Master the Game