About The Author
Saul Isaksson-Hurst is an experienced premier league academy coach having spent 6 years at Tottenham Hotpsur FC and 4 years at Chelsea FC's Academy as a Foundation Phase skills specialist and is founder of mypersonalfootballcoach.com where he is director of coaching. With the success of Croatia's World Cup campaign, Saul reflects on his trip to Croatia with a detailed analysis of the academy of Dinamo Zagreb which has been extremely influential in producing some of the worlds best footballers.
Croatia have won the hearts and minds of fans during their run to the final of the 2018 World Cup. There has been many stories about Croatian football talking about the chaos and lack of a development programme.
This was a shock to me as I visited the country last year and I found that the complete opposite was the truth. The countries football is driven by Dinamo Zagreb, which is not only one of the best most prolific Academies in world football but I would argue one of the most meticulously organised in terms of how they approach the development of their young players. In this article I go deep inside the heart of this giant of Croatian football and find out what exactly they do to consistently dominate the productivity ratings in world football.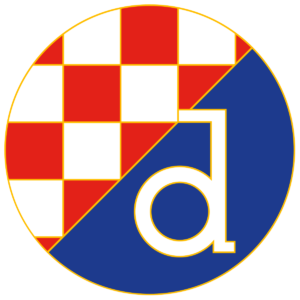 In 2011 the Dinamo Zagreb Academy was awarded one of the 6 Best Youth Academies in Europe by UEFA.  Barcelona, Inter Milan, Sporting Lisbon, Ajax & Arsenal were the other winners.
The award was judged in 4 areas:
Academy in world terms (how its perceived from the outside across the world)

Organisation

Path to first team

Methodology
Dinamo's Academy continues to churn out talent, they now hold the world record for a single club to be represented at a world cup, with 14 players in this current Croatian 2018 world cup  Squad Even more remarkable is that this modest city can continue to develop footballers for the 31 top leagues in world football. Dinamo Zagreb is continually near the top of this list. (Pic 1) Beaten only into second by Ajax last year. (Fig from CIES Observatory)
When first arriving in Zagreb and driving from the airport to the Stadium you realise just what a small city it is (in comparison to most European Capitals) with a population of only 800,000. This immediately makes you realise the staggering success of this academy which boast graduates such as Luka Modric, Vedran Ćorluka, Zvonomir Boban, Robert Prosinečki, Dejan Lovren, Niko Kranjčar , Mateo Kovačić and Alen Halilović to name just a few.
On my visit I was really interested to get into the nitty gritty of the academy, see what really makes it tick, what follows is a detailed examination of the organisation and methodology of one of the best Academies in world football. All the following information comes from interviews with the coaching staff of Dinamo Zagreb and observations of Academy sessions.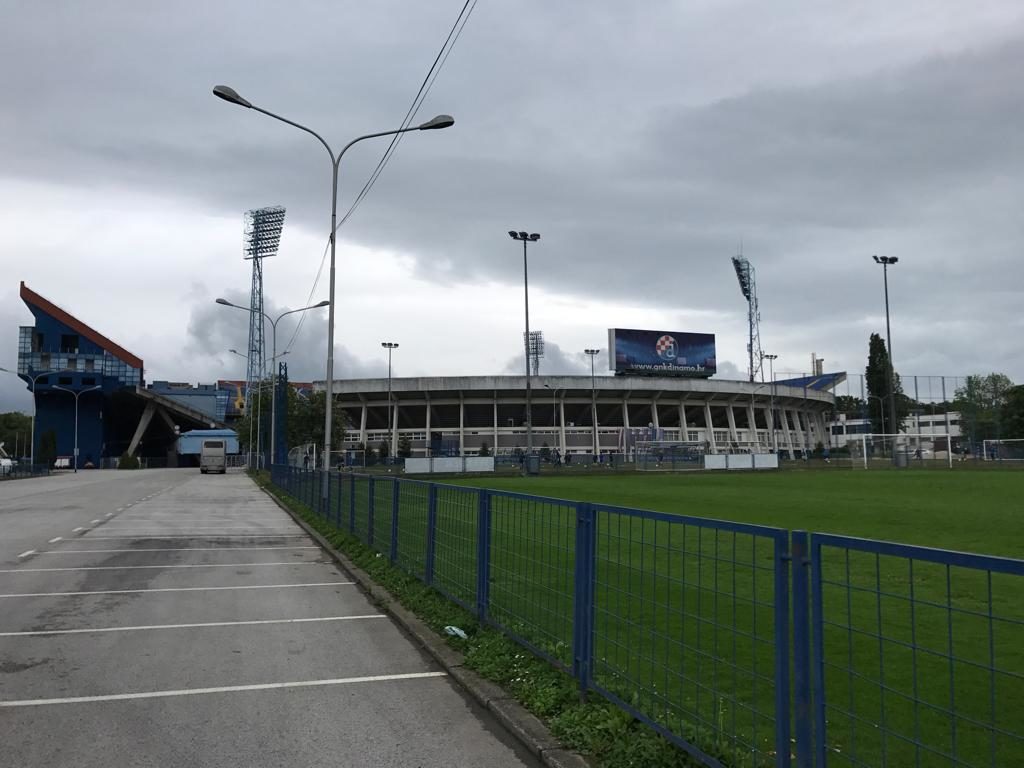 The academy is in the shadows of the first team stadium
Academy Objectives
Dinamo is a selling club, they know that and embrace it. One of their main objectives as an academy is to produce talent to sell players to 1 of top 5 leagues in Europe.
When working with young players there are 5 main objectives in their academy:
Develop healthy lifestyle habits. Dinamo recognise that there is a growing cultural problem with children and healthy activity. Croatian ministry of Health released

 

figures that show the children are 2.5 lbs heavier than they used to be.

Train youngsters to be good people (bigger picture) only few will make it. Holistic approach to development and realisation that only a minority will make it.

Helping children to be happy in sport. Linked to the first objective, to make fit and healthy young men with love of all sport not just football.

Responsibility in school obligations. Education is pivotal, linked to the 2nd objective. Academy staff must see a player's reports, at least 1 a month.

Developing of players for the first team. All connected… if good in first 4, chance to be good for 5th. Player for first team must be good at all 4f!.
Match Days
Systems of play aren't important at the youngest age groups. Basic principles only. Give them opportunities when they are on the ball, they are free to do what they want.
Players are put in positions so its not chaos, however they don't care about positions or team outcomes, its about universal development. Players encouraged to go out and express themselves and be creative.
Not position specific.
They NEVER limit the amount of touches of players, neither in game or training context. For instance 2 touch only. They believe this hinders creativity.
Here's a video of the Dinamo Zagreb u10s doing Ball Mastery at the beginning of their session.
For full sessions from the Dinamo Zagreb Academy, try the Coach's Pass where you can find hundreds of  world class training drills. Click below to purchase access.

12 – First Team
When players reach 11 they are now finished with first phase concept
Now technique is through the dynamic and functional
When players reach 12 they move from small pitch to a big pitch. This will be their first experience of 11v11
The boys will play 4141 433
Formations however are not important, more tasks of players ability in sensitive phases.
There is still an Individual approach in technical development.
If players have areas of their technical game that they need work on they will work with an individual coach, this could be 2 x 45 minute session 121 with a skills coach.
If players lose the ball they are looking for a quick reaction, players encouraged to win the ball back quickly. Dinamo teams will always try and play a high pressing game.
Combination passing 2,3,4 players is a big part of the methodology at this age, including wall passes and 3rd man runs.
Still care and attention on individual technique within these age groups.
U12/U13
5 session per week plus a match. 1 is fun multi move non football session.
Football with demands! Technical  and tactical
Intensively communicate with players in training. Ask for feedback
Why did you do that? Encourage players to talk analyse their play in training and games.
14/15
14/15 5/6 sessions depending on periodisation plus match
More specific 8-10 hours
A lot of individual tactics and basic group tactics
Specialisation in position
Primary and secondary positions
All players must play at least two different positions almost equally.
Global guidelines. Support players in being flexible. This may be left wing and left back for example. 2 positions that the player can actually play well in.
There is a recognition about individual differences at these age groups as players go through puberty, he mentioned having a player who is 2 metres tall and 1 who 1 metres tall. Patience is the key at these age groups.
Creativity is more important than team. Individual work is still important.
Formation and system not too important.
16-1st Team 
16-19 5/6 sessions
Technique specific situational and competitive, dynamic and functional
17/18
Football with demands, group and team tactics
Periodisation for conditioning.
Collective demands 3/4/5 players units/communication attack defence etc
Croatia has a unique schooling system where some children go to school in the morning 8-2 and some in the evening 2-8. This means squads are split when the train 1 half of team is morning, 1 in afternoon. This means 2 smaller group sessions a day. Smaller groups however tie in with the individual approach. Still lots of emphasis on the technical detail. 2 times a week, the squads will train together, later in the evening .
8-11 finish 5 in afternoon so they always train together .
U19
Demanding forms of game
Group team tactics become more prevalent.
Individual periodisation
Technical and tactical individual
The club recognises the problems with the older age groups as so many of their older age group players are involved with the first team. This can cause problems in terms of missing school work or exams. They strive to make this transition as painless as possible.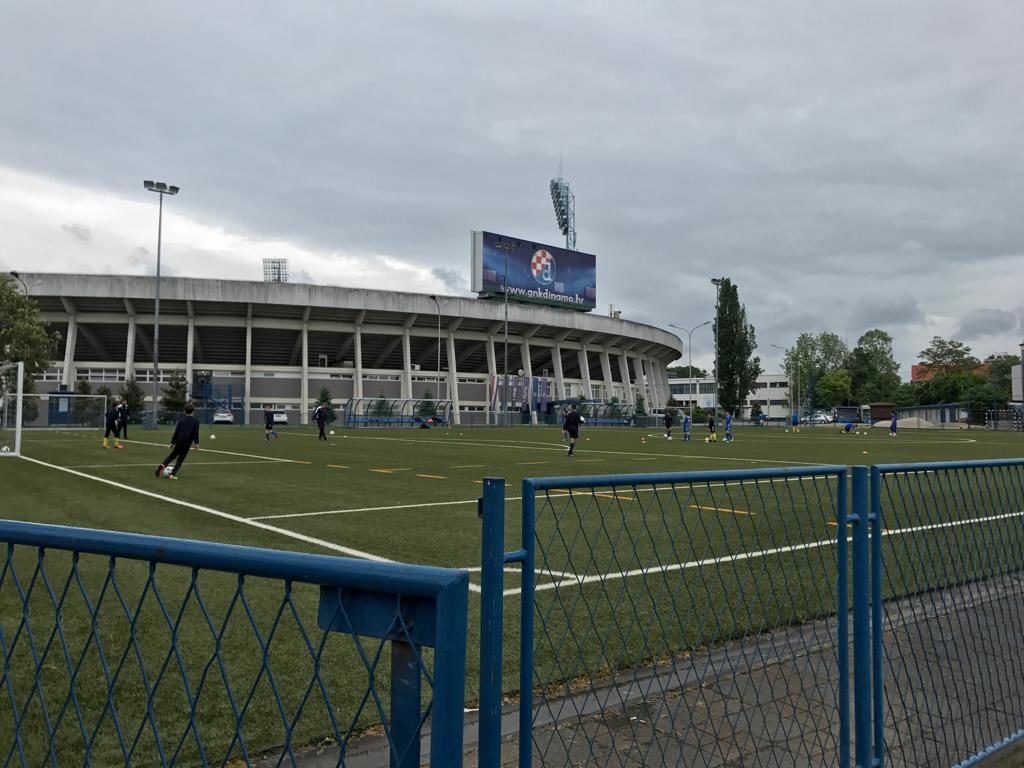 Dinamo Zagreb academy boys being put through their paces
Recruitment
U8-U14 selection only from Zagreb and surrounding areas.
10,200 in the catchment area, 9000 are kids aged u8-14, 120 are older.
There are 9000 to choose from. 2 and half pounds heavier statistically as discussed earlier, also 17% flat feet. This limits selection, must be very precise. They have a precisely planned curriculum to be effective with these small numbers.
The club also runs an open school from u6-u12, this includes B teams. Anyone can come and play/join. It follows the same programme as the academy. There is also a big focus on other sports including basketball.
They wont recruit players between these ages who live further than 45 minutes commute from training ground, maximum 1 hour max 1 player per generation travel 1 hour, very unusual.
It's a child protection issue for the club as they don't want to disrupt the lives of the child too much.
If player is really exceptional that lives outside the catchment area of the club, they keep in contact with them, consult with the coach of local club, supporting them in developing the player. 1/2 times a week they may come. They will join for tournaments and other special occasions.
Make transfer easier.
u14/15 then recruitment from whole Croatia begins. Club owns 2 houses that are very close to the stadium, the players will go to school near stadium. There are around 30 players in the 2 houses. These are players from other parts of Croatia.
As of last year when I visited, half the  first team had passed through the Academy of the Club which is a remarkable statistic.
Technique is key!
As you may see, technique is a key strain of the methodology of the club. As well as the 104 technical aspects the club also has 24 demands for progressive ball possessions. These include things like looking behind and scanning before you receive. Players are expected to master all of these by the time they complete the u15 season.
Iv'e never in all my time in Academy football encountered such a meticulous approach to the technical side of the game. When spending a couple of days watching 9-19s train this was reinforced in the sessions I saw. For instance, I saw a u12 shooting session that involved striking a ball through a very small mini goal which then travelled to a full size goal with a keeper (this session is available on the Coach's Pass) the coach was meticulous with his detail for the players and the players had to get it spot on to get it through this mini goal. I also watched a u17 session, as mentioned it was half the group, just forwards working on volleying from in and around the outside of the penalty area. Again this session showed the technical detail as they challenged this small group of players to finish volleys from all different angels.
As a technical skills coach I was in my element and really appreciated the culture of technical excellence that the academy promoted. Also many Academies talk about having an individual approach but its really put to shame by Dinamo who actually do it. As mentioned above the 2 121 sessions for players with skills coaches to support them in areas is something iv'e been arguing for in Academy football for many years. Dinamo Zagreb understand that Technique is the base where all football comes, so they ensure nothing in the area is left to chance.
It was refreshing to see the use of Ball mastery at the start of every session in the foundation phase, as it was 1v1 and SSGs. The 3 main streams of the my and the My Personal Football Coach philosophy. The game is definitely not the teacher in this environment.
There's really no coincidence Dinamo continually produce these technical game changers, players who can get on the ball and stay on the ball under pressure. These are players who are independent decision makers, players who go on to populate the best teams and leagues in world football, carrying with them the flag of Dinamo Zagreb where ever they go. An Academy that almost made Croatia world champions in 2018 but definitely showed what is possible if you have an organised, effective and productive youth development system.
Master the Ball Master the Game.