First Touch
Turning
Passing
Receiving
Dribbling
Ball Striking
Running with the ball
Quick Feet
Cones or equivalent markers
Goal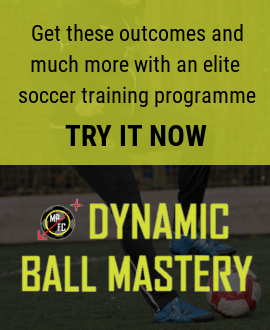 MyPersonalFootballCoach.com have teamed up with
FourFourTwo Performance
to bring you a series of soccer training drills to improve your football game.
Be a complete striker with a soccer drill that focuses on soccer skills fast feet and sharp shooting. This individual soccer practice has 3 parts with excellent functional soccer outcomes.
1. Dribble though a set of 7 cones placed in a line towards the goal. Keep the ball close to your feet and cones as you dribble in and out as pace
2. Explode into the turning square (a set of 4 cones) where you will perform a sharp turn at each corner. Use different turns such as Cruyff turns, Zidance turns, inside cuts, outside cuts etc
3. Explode towards the final cone and perform a 1v1 soccer skill such as a Ronaldo step over or Garrincha before accelerating into space and firing a laces shot into the goal.
Hard work pays off
Master the Ball…Master the Game