First Touch
Turning
Passing
Receiving
Dribbling
Ball Striking
Running with the ball
Quick Feet
8 Cones or equivalent markers
Goal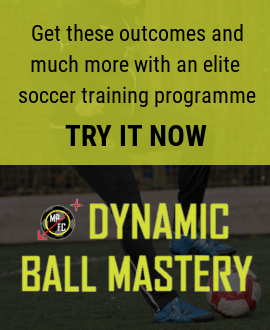 MyPersonalFootballCoach.com have teamed up with
FourFourTwo Performance
to bring you a series of soccer training drills to improve your football game.
Be a complete striker with a soccer shooting practice that works on exploding clear to bury that scoring chance. Its also has several ball mastery outcomes working on your touches, turns and dribbling.
Set up 4 cones in a line parallel to the goal around the 18 yard line. Please adjust depending on the space you have.
Place another 4 cones in a square in front of the away from the cone line and goal
Step outside the square and with your back to goal, perform 4 kick ups and on the last one kick it up above your head.
As it comes down, control the ball on the turn and dribble into the square.
In the square perform 2 turns at opposite end if the square which will test your touches and dribbling.
Explode out of the square and cut left or right through the cone line acting as gates before shooting into the goal.
Keep repeating using different turns and working off both feet.
This shooting drill is not just for strikers but for all players as scoring chances are often few and far between in a football match, so when that chance comes, its important to make the most of it and give yourself the best chance to score!
Hard work pays off
Master the Ball…Master the Game