First Touch
Turning
Passing
Receiving
Dribbling
Ball Striking
Running with the ball
Quick Feet
Cones or equivalent markers
Goal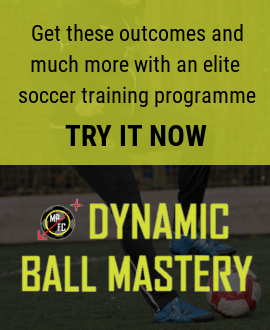 MyPersonalFootballCoach.com have teamed up with
FourFourTwo Performance
to bring you a series of soccer training drills to improve your football game.
Be a complete striker with a soccer shooting practice that focuses on dribbling, turning and power shooting.
Set up 4 cones in the shape of a triangle with the tip closest to the goal. Place 3 balls at the tip.
Dribble at speed to the first cone and perform a sharp turn
Explode back towards the tip performing.
As you approach the cone, perform a 1v1 skill around the cone before exploding towards the goal at an angle and finishing into the corner.
Repeat for the other cones which represent new angles and provide an opportunity to use your other foot to shoot.
Hard work pays off
Master the Ball…Master the Game