First Touch
Turning
Passing
Receiving
Dribbling
Ball Striking
Running with the ball
Quick Feet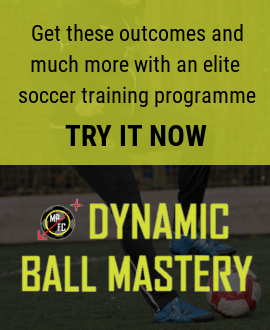 MyPersonalFootballCoach.com have teamed up with
FourFourTwo Performance
to bring you a series of soccer training drills to improve your football game.
Be a complete striker with a soccer shooting practice that works on 3 essential elements that every soccer player much master. The ability to pass, dribble & finish. This fun soccer training drill required 2 players.
Set up 4 cones in a square away from the goal.
Players should stand diagonally opposite at the corner and exchange 4 passes starting with the player furthest away from the goal
After the final pass the player furthest away from the goal attacks the player and beat him with any skill. Be sure to vary the skills and explode out of the square.
Once out of the square, shoot at the goal with a laces finish.
Alternate corners for angle variation and work on both feet.
Hard work pays off
Master the Ball…Master the Game