First Touch
Turning
Passing
Receiving
Dribbling
Ball Striking
Running with the ball
Quick Feet
Partner to throw the ball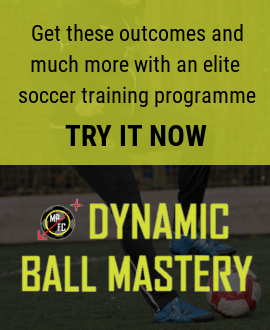 This soccer skills challenge is focused on aerial ball control and mastering your touches when the ball is coming at you from a height. The challenge will need 2 people and is a fun exercise to do with your team mates.
There are 5 stages and it is important to follow the video to achieve the best outcomes. Always run backwards when moving from side to side
Stage 1 – 1 touch volley – pass back with inside of your foot
Stage 2 – 2 touch volley – pop the ball up and pass back with the inside of your foot
Stage 3 – Chest cushion and volley back – Try to relax your check when you cushion the ball
Stage 4 – Chest to the side, wedge the ball and turn, scoop the ball back. After the turn, makes sure you explode before scooping the ball back
Stage 5 – Touch behind on the volley and scoop back. Touch the ball behind the standing foot to the side, turn back and explode before scooping the ball back.
Repeat the challenge using the weaker foot for all stages. Try and use right foot on one side and left foot on the side of the person throwing the ball.
Progression – use other surfaces of your feet to control and pass back.
Hard work pays off
Master the Ball…Master the Game