This weekend's Premier League fixtures were dominated by events at the Stadium of light in Sunderland where the fairy tale continues for Leicester City and at White Hart Lane in London where Spurs kept their slim chance alive.
Champions League for Leicester
Firstly to the Stadium of light, and a tough fought encounter for the League leaders Leicester. This game and its results epitomises Leicester City and why they sit an unprecedented 7 points clear with just 5 games remaining. The reason is simple and as because they possess true game changers, 2 in fact. In Riyad Mahrez and Jamie Vardy they have 2 players who have consistently been able to step up to the plate when it matters and change a game in Leicester's favour with some individual brilliance. On Sunday as so often it was the turn of Vardy, two moments of technical brilliance that changed the game.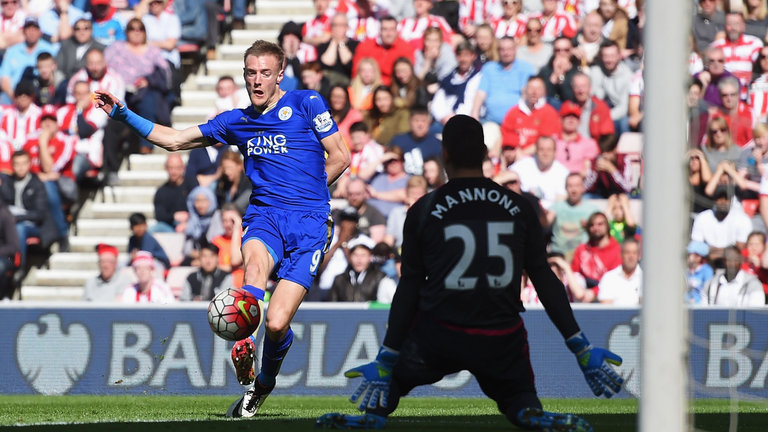 As a technical coach my
philosophy
 centres around the ability to dominate players 1v1, the players with this technical attribute are the ones that not only turn a game in a team's favour but are also the ones who are most lauded by the fans and most sought after by the big clubs in world football. Just look at Barcelona's forward line of Messi, Suarez and Neymar. Three players who can take opposing players out of the game with both the ball at their feet and their movement off it.
Vardy yesterday showed a masterclass of forward play and dominated Sunderland's towering centre back Younès Kaboul in 1v1 situations.
The first goal came from an exquisite long pass from Danny Drinkwater, but it was Vardy's movement and the timing of his run that allowed him race beyond Kaboul and into the penalty area. This great movement was followed by an exquisite first touch which took him across the recovering defender and towards the goal. This touch gave him the opportunity to open up his body for a finish on his right foot. The weight and direction of this touch was carried out to perfection and any small misjudgement to carry out this technique as intended may have led to his run being taken away from the goal and thus making the angle for the shot more acute hence favouring the goalkeeper or showing the keeper too much of the ball and letting him recover it.
For his second goal, Vardy showed why he is one of the most inform players in European football by again dominating 1v1, this time it was Patrick Van Aanholt being left on his backside. On this occasion Vardy attacks the defender from the front brilliantly running on to the ball, again it is the forwards first touch which takes the defender out of the game, drawing him in and then brilliantly timing his touch to explode past the Dutch defender and onto the goal where he calmly rounds the keeper to score.
These two moments and world class 'First Touches' that fans at the Camp Nou in Barcelona would be thrilled to see their star forwards produce show an individual on form, an individual with the confidence and the technical ability to change the game!
At White Hart Lane, another hard fought game was opened up by a piece of technical brilliance from Christian Eriksen, Spurs' Danish playmaker. Eriksen is what i would call a technician, a player not blessed with physical attributes like power and speed, but a player who has developed true mastery of the ball.
There is little wonder that Ajax spotted him as a talented teenager and moved him over to their aptly named De Toekomst (translates as 'the future' in Dutch) training facility in Amsterdam to develop him. He followed in a long line of playmakers suited for the number 10 role, aka Bergkamp, Litmanen, Van Der Vaart and Sneijder.
The number 10 role has been a staple for top clubs in European Football for generations and is slowly finding its way into the premier league. This role is designed for the player, the game changer. David Silva is a great example of this at Man City, his vision, touch and awareness destroying defences rather than his speed or power.
For me, what stood out so much about Eriksen's armoury on Sunday was that he picked out Dele Alli's superbly timed run with his left foot…his 'weaker foot'. Eriksen's favoured foot is his right, the foot that he chooses to take his deadly free kicks with.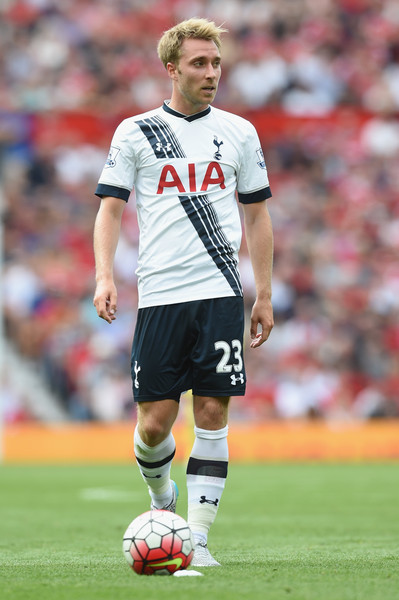 Whilst working with elite young players in Premier League Academy football, I continually talk about and demand that a player must work towards being 2 footed, or being able to play off both sides. I argue that this technical ability is now essential in the modern game for top level players. Eriksen has the awareness to spot Alli's run and more importantly pick out a perfectly weighted and timed pass into the run of the young England sensation. Without this ability to play first time off his weak foot, the opportunity would have gone a miss and maybe also the opportunity for Spurs to keep their feint title hopes alive!
As coaches and parents we must ask ourselves whether we are supporting our young players in developing their weak side, giving them the opportunity to open up the whole pitch? Are we more concerned with short term gains or success in youth football? A win or an organised team? Or are we committed to developing the next generation of game changers, ready for the Premier League or any top flight league in the world?
Master the Ball…Master the Game
Saul Isaksson-Hurst 
Head Coach at MyPersonalFootballCoach.com